Ah, how easy it would be to always look stylish, if only I would've hit that Powerball jackpot a couple weeks ago. That loss still hurts. I know I'm not alone though, I'm not the only who has to work with what I have in my closet. But here's the thing: it's not always essential to have boatloads of money to look great. Style doesn't come with a price tag! So if you're on a budget and want to freshen up your look, then take a read of some of the tips listed below. They'll have your wardrobe and bank account equally happy.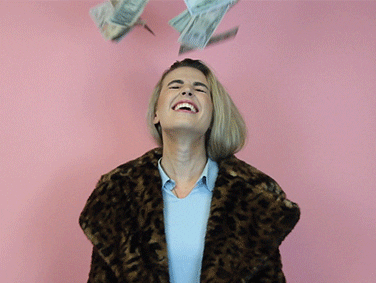 Shop From The Back Of Your Closet
We tend to get in the habit of wearing the same clothes over and over again, and ignoring some of the other pieces that we have buried at the back of our closets. We can grow tired of a piece and relegate it to the back, but then, six months later, it suddenly doesn't look so bad. Trust me, I once came across a pair of never worn, brand new distressed jeans that I forgot about for a couple of years. So when you're feeling bored with what you're wearing all the time, pull everything out of your closet and have a mini fashion show. You might just add a few items to your outfit rotation, and you won't have spent a penny.
Reimagined Pieces
But what if you take an overview of everything you have, and you still don't like what you see? You don't automatically have to get your credit card out. Instead, you can try to bring them back to life by doing a bit of clothes DIY hacking. You can make old clothes look new and different even if you've never done this type of thing before. Sewing on buttons, fixing zippers, changing the hem of jeans, and removing stains are all much easier than you might imagine, and will allow you to wear your old favorites all over again.

Bargain Finds
If you want to wear the latest fashions, then sure, you're going to have to pay for it. But if you want to be stylish? There's not much cost attached to that, if you know where to look. Make a plan to wait until the end of the season to buy staple pieces that will likely still be "in" the next year. You'll get great pieces at a discount. If you need a piece to be worn immediately, check out your local consignment shops, Goodwill, and flea markets. You may come across a gem! Also, don't be afraid to scour your favorite store's clearance rack or clearance page on their website.
Accessories Options
Our clothing is only one aspect of our style. The rest is dominated by our hair, makeup, and accessories. Most people know they need to pay attention to hair and makeup, but accessories? They often get overlooked. Gloves and scarves, jewelry, glasses, and even things like iphone marble phone cases can add to your sense of style. If you can't afford a whole new outfit, then look at those affordable accessory options!
Get Inspired
Finally, remember that you can freshen up your look by playing around with the color combinations, patterns, and textures of your outfits. Take chances! Fashion is fleeting, but style is forever!